How to read your water & sewer bill
The District mails bills to its residential customers every other month, and to commercial customers monthly. All regular bills are printed on paper and appears as follows: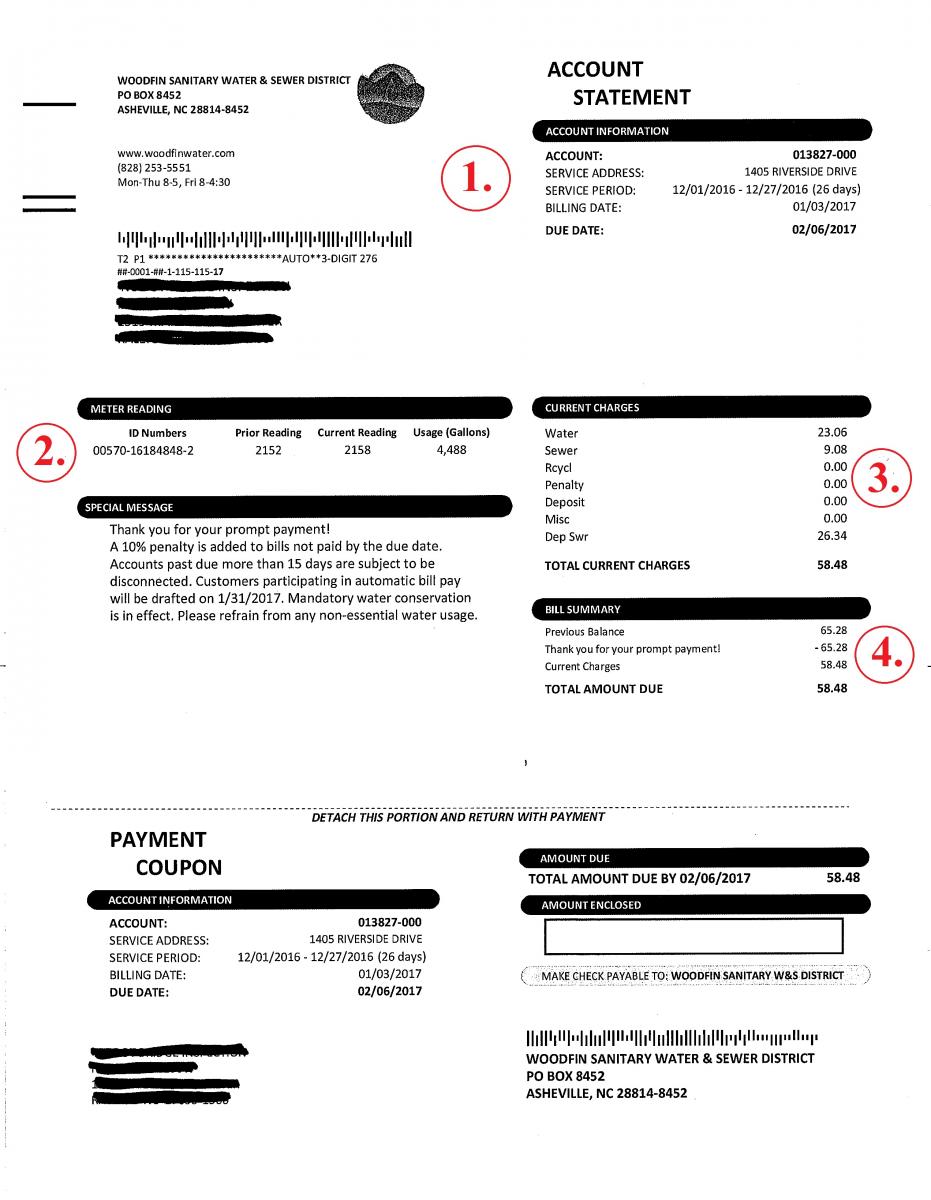 The fields of the bill are as follows:
1. Account Information
Account: This is your unique account number. The format will be six numbers, a dash, and three numbers. For example, your account number might read 012345-000.
Service Address: This is the location that you receive service from the District. This might be different than your mailing address.
Service Period: This is the time period the bill covers, from the date of the previous meter read to the current read. The District tries to have the reading period approximate 30 days for commercial customers and 60 days for residential customers, but it may fluctuate by 3-5 days for commercial customers and 7-10 days for residential customers. 
Billing Date: This is the date your bill was generated. Bills are usually generated and mailed on the same day.
Due Date: This is the date that the current bill is due. Past due balances do not get an extension with the current bill.
 2. Meter Reading
ID Numbers: These are serial numbers that are unique to your meter and service location. These numbers are for office use.
Prior Reading/Current Reading/Usage: These are the readings used to calculate your bill and the total gallons used. Readings are typically in 100 cubic foot increments, so a difference of one between the current reading and the prior reading would be 748 total gallons (there is 7.48 gallons in one cubic foot). In the example above, the change from 2152 to 2158 on the meter was 6 (100 cubic foot increments), or 600 cubic feet. 600 cubic feet X 7.48 gallons = 4,488 gallons, in the example above. 
3. Current Charges
Water: The amount due for water used.
Sewer: A fixed charge for sewer services.
Rcycl: Charges for recycling, if applicable.
Penalty: Penalty charges for late payment on your current bill.
Deposit: Charges due as a deposit, if applicable.
Misc: Miscellaneous current charges such as additional meter readings or new service fees.
Dep Swr: Dependent Sewer charges. These are your sewer charges based on the amount of water that was used. These charges are in addition to the fixed "Sewer" charges on your bill. Fixed and dependent sewer charges are determined by the Metropolitan Sewerage District of Buncombe County. You can call (828) 255-0061 to learn more about sewer fees and charges or you can visit their website at www.msdbc.org.
4. Bill Summary
Previous Balance: This is the total of all previous balances listed on your account prior to the printing of this bill. Generally this is the previous billing period plus any late or disconnect fees.
"Prompt Payment": This is any payments that were made on your account during the previous billing period.
Current Charges: These are the current charges, as explained above.
Total Amount Due: This the total amount of all past due and current charges that are due on your account. Past due balances are not extended by the current bill. This field demonstrates the total amount that  is outstanding on your bill at the time of the bill's printing. Past due balances are still due and payable immediately unless arrangements have been made with our office.